FAQS
Westminster Village is a Continuing Care Retirement Community located in Bloomington, Illinois.
Westminster Village is a locally owned and operated not-for-profit organization.
Westminster Village is open to all applicants ages 55+ without regard to ethnicity, religion, sex, or national origin who meet the required age and financial criteria.
Residents of all areas are welcome to bring their vehicle(s) to Westminster Village. Open-air parking is available in several convenient locations around the campus. Carports are also available to reserve for an additional monthly fee.
Transportation to locations within Bloomington-Normal may be scheduled by contacting Westminster Village's Front Desk. Local bus and taxi service is also available.
Yes, Westminster Village offers several furnished guest rooms that may be reserved through the Front Desk for an additional fee.
Residents are encouraged to make their apartments feel like home by hanging art, installing decorative window treatments, landscaping around patio areas, etc.
Westminster Village does not have the facilities to accommodate pets residing in our apartments.
Individuals are encouraged to contact Westminster Village for further information or to schedule a tour of the campus by phone at (309) 663-6474 or by email at info@westminstervillageinc.com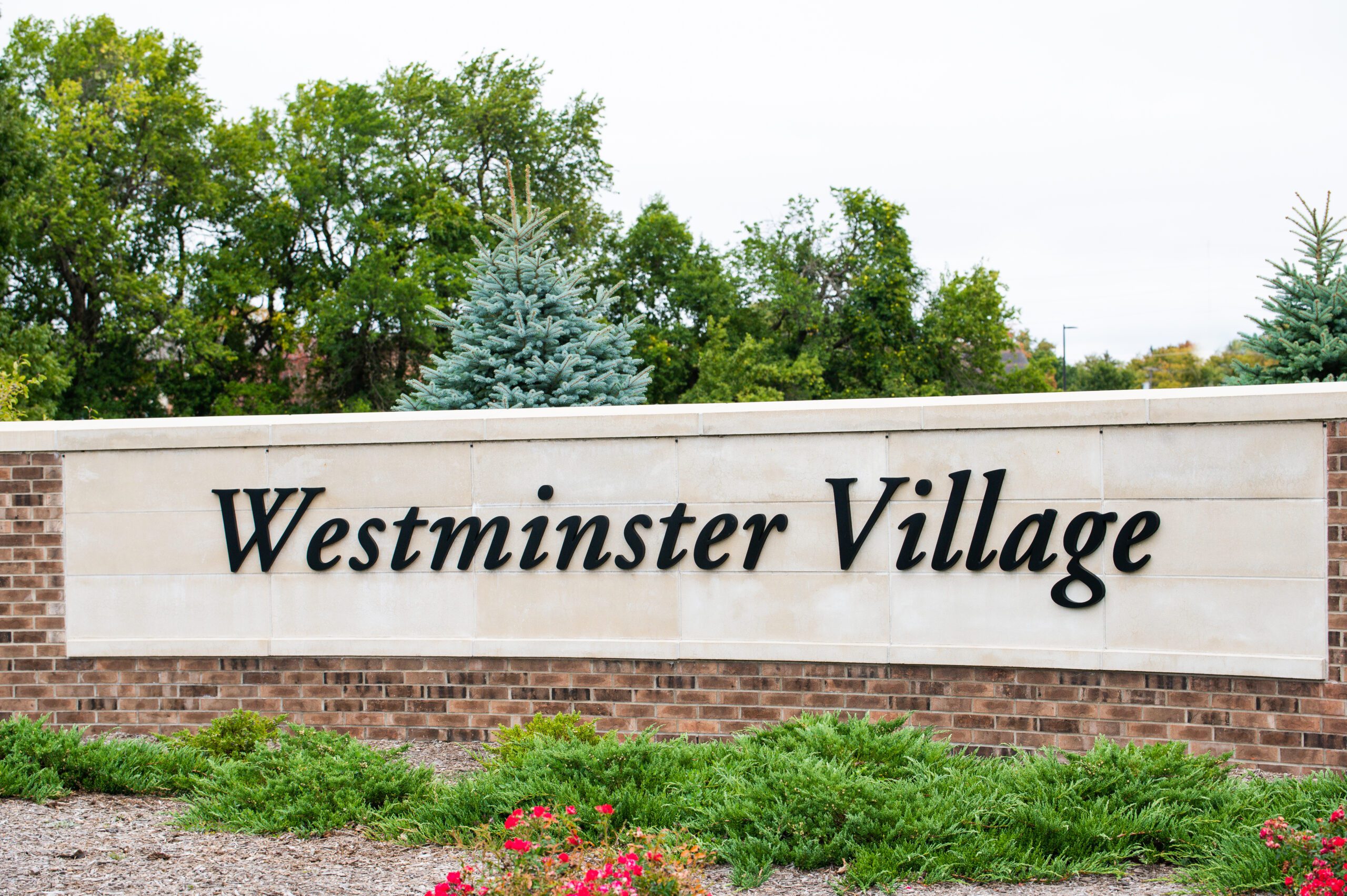 WESTMINSTER VILLAGE
Independent Living Apartments
While the apartments are equipped with kitchen appliances (ceramic-top electric range, refrigerator, dishwasher, washer/dryer), residents provide their own furniture, accessories, and decor items.
Westminster Village offers 10 floor-plan options for Independent Living apartments ranging from 439 sq. ft. to 1,288 sq. ft. Many apartments also include a patio or balcony as well.
Yes, guests are certainly welcome to stay overnight in residential apartment. If guests would prefer to have their own room, guest rooms are available to reserve for a nominal fee.
Once an individual has accepted an available apartment in Independent Living, they have 30 days to take possession of the apartment if entering into a Rental contract & 45 days to take possession of the apartment if entering into a Life Occupancy (Buy-in) contract. Before setting a move-in date, the individual will need to complete and return all necessary move-in paperwork. On the designated move-in date, the individual will sign their contract & take possession of their new apartment.
Open-air parking spots & carports are available behind each of the Independent Living apartment buildings and can be accessed by exiting the "B-Wing" or C-Wing" door of each building. Open-air parking is free of charge. Carports can be reserved for a monthly fee.
The apartments run off our geothermal heating/cooling system with a thermostat in each apartment. Residents have full control of the thermostat and can set it at the temperature that's most comfortable for them.
Independent Living apartments receive housekeeping service every other week. Each resident is given a housekeeping schedule with their scheduled day/time slot.
The Willows
Independent Living Duplexes
Your monthly service fee includes electricity, gas, water, wireless internet, television, and garbage service. Residents are responsible for landline telephone service.
Residents of The Willows have access to all Westminster village common areas and dining options. One meal per day is included with your monthly service fee & additional meals can be purchased on an individual basis or as part of a dining package.
Yes, housekeeping services are available for a nominal fee. Please contact the front desk for further information and rates.
Yes, all 21 duplexes are equipped with washers and dryers for the convenience of our residents.
The Willows community is for individuals 55 and over who enjoy the privacy of their own home, but also want the comfort & security of living in a retirement community.
Westminster Village
Licensed Assisted Living & Memory Care Apartments
Residents of Westminster Village's Assisted Living receive a personalized service plan, 3 meals a day, bi-weekly housekeeping service, laundry of personal clothing and linens, daily bed-making services, complimentary van transportation, mail delivery, paid utilities, morning and evening checks, apartment maintenance and repair, and access to on-site wellness programs & daily planned activities. Additional services such as assistance with activities of daily living and medication set-up, supervision, and reminders are also available based on level of care.
Westminster Village offers 3 floor plans in Assisted Living ranging from approximately 380 sq. ft. to 1,195 sq. ft. Monthly fees are based on the floor plan selected which includes Studios, One-Bedrooms, and Two-Bedroom apartments.
Residents of Westminster Village's Assisted Living can enjoy their meals in one of the two beautiful Assisted Living Dining Rooms, situated on the 2nd & 3rd floors of the Assisted Living building.
Certainly! Residents of Westminster Village are encouraged to take advantage of all activities and social events offered.
Residents in Assisted Living enter into a monthly rental agreement with Westminster Village.
Martin Health Center
Skilled Nursing Care
No, admission is open to individuals from the community as well as residents of Westminster Village.
Yes, Martin Health Center has (48) Medicare-licensed beds. Please contact Social Services for availability and further details.